For the last couple of days, I have been drawing and inking AG characters for a 5′x2′ banner. We have been going to conventions for couple of years now, I think it's time for us to have a banner so readers can find us.
I might put the original art up for auction…I haven't decided yet.
I also recorded myself inking Alice with micropens and a sharpie.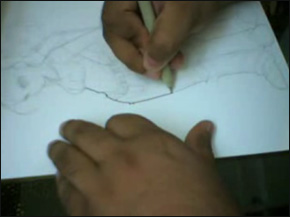 This entry was posted on Monday, June 26th, 2006 at 4:05 AM and is filed under Rant. You can follow any responses to this entry through the RSS 2.0 feed. You can leave a response, or trackback from your own site.