November 29, 2004
Posted @ 11:52 PM by Hawk in
Rant
|
Comments Off

on I'm Your Master
You learn something new everyday.
I was hanging out with Ananth and his friend Phil (Fil) this afternoon after our morning class. Phil took out his iBook and started to mess with iTunes and few other things. At one point, Phil started to control his Mac by saying some commands out loud. It was funny to see how some of the commands would only work if he ends the command with the word "bitch".
Anyway, while watching Phil yell at his Mac, it occurred to me he was using an OS X Jaguar feature, the Speech Recognition…a feature I didn't bother to look at until now.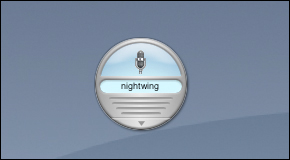 Since I have an iSight, which has a built in microphone, the speech recognition works very well with my PowerMac G4. So far I'm having fun with this, I'm checking my mail, surfing the web, opening and closing windows without touching the mouse or keyboard.
Soon I will have my very own special commands….